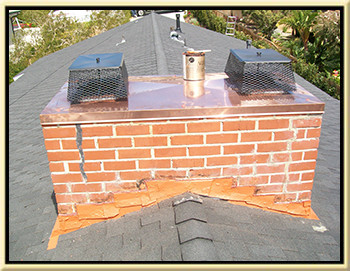 South County Roofing is your local roofer providing roof repair estimates for Trabuco Canyon, Mission Viejo, Dove Canyon, Coto De Caza and Rancho Santa Margarita.

Trabuco Canyon Roofing Companies 92679
South County Roofing is your one stop source for Trabuco Canyon roof leak detection and repair services. While most roofing companies prefer to do only big jobs like complete re-roofs we are happy to do the little things your roof needs. Because we only repair roofs we have become an expert in this field above all other roofing contractors. You can depend on an honest evaluation of your roofing problem and precise solutions to solve any problem you roof may have.
One of the more common roofs in the Trabuco Canyon area is the concrete tile roof. Tile roofs can be made from different materials such as clay or light weight cements. But, they are all pretty much installed the same. Even though tile roofs are common it is not common for roofers to know how to walk on them without breaking the tile themselves. Be careful having to many roofing companies on top of your roof. You can end up with many more broken tiles than you thought.
New Home Owner Roof Inspections
If you are in the process of buying a home in the Trabuco Canyon or Rancho Santa Margarita area you should consider having one of our roof inspectors check out the roof before you buy the home.
We have helped many home owners avoid costly repairs buy pointing them out before the home is purchased. We issue a roof inspection report via email that will outline any necessary roof repairs that should be completed before you purchase the home.
This allows you time to negotiate the cost of these repairs into the home purchasing agreement and this can save you thousands of dollars and the headache of experiencing a leaking roof just after you spent all this money on your new dream home.
Make Sure Your Roofer is Licensed and Insured!
There are many important factors to consider when hiring a roofer in Trabuco Canyon. Licensing, insurance, and experience should be at the top of your list for must have's when considering a roofing contractor.
If these things are important then yo are in the right places. South County Roofing just celebrated its 20th year of being licensed by the Contractors State License Board. We have been properly licensed continually with the CSLB since 1997 and we are located locally in Lake Forest which is very near the Trabuco Canyon and Rancho Santa Margarita areas.
As for insured, you can trust we have an active Worker's Compensation policy in effect at all times. We never hire day laborers and all of our employees are paid by check weekly. To add to the insurance we also have a 2 Million Dollar General Liability policy for your and our protection.
Roof Leak Detection Company in Trabuco Canyon

Being in the middle of a rainy season and having water damage your ceiling is never a good thing. And, try getting a good roofer to come out and give you a fair price is even harder. But, not if you call South County Roofing! We are your roof leak detection and repair specialist.
Do you need a roof tune up or a whole new roof?
We get asked this question all the time. Customers just don't know if their roof can be repaired or do they need a whole new roof. This is something we can help with by performing a proper inspection of your roof. To do this we will need to get on top of your roof and walk the entire surface. This will allow us to get a feel for the workmanship and make sure all of the components of a proper roof are in place
Can your roof be properly assed without getting up on top of it? I don't think so. I always try to go up on the roof and check out all of the sections of roofing up close. I take photos of what I see and if allowed I will sit down with the customer and go over any concerns and make recommendations.
Sometimes when doing a roof walk I find a simple and inexpensive solution for difficult roof leaks and that can save you a lot of money. That is just one the many reason I like to walk the surface of each roof I inspect. Being thorough is another reason I like to get my ladder out and go up on the roof. Contractors who are to rushed to do a proper inspection and don't take the time to sit down with the client are not giving it their all and, I don't operate like that.
Broken Roofing Tiles in Trabuco Canyon
Almost every concrete or clay tile roof we inspect has some broken or missing tiles. I know this seems strange but it is so common. The canyon areas of Orange County have really strong winds at times throughout the year. And, these strong winds exert a force upon your roofing tiles and this causes them to crack and eventually break. That is why you should have us check your roof for broken roofing and or slipped or displaced roofing tiles.
Slipped or displaced tiles is even more common than broken tiles on your roof. Many of the tile installed on your roof comes loose over time. This can happen for a variety of reason but the most common is the lack of a proper sized fastener or sealant. That's right, I said sealant. Rather than nail every tile on your roof securely to the roof deck itself some of the tile on your roof are actually glued.
Why Would Someone Glue Your Roofing Tiles?
Believe it or not there's a perfectly good explanation for this. Some of the tiles on your roof are placed directly over a critical piece of roof flashing. And, you do not want any extra holes in your flashings that protect your skylights or chimney / fireplaces.
It is very common and perfectly ok to glue these tiles in place instead of nailing them. But, when you glue tiles you need a very high quality sealant for this and that is where the failure comes in. As we know contractors love to cut corners and on the roof a cheap sealant is a corner most roofers are willing to cut.
We never do this! We stock our vehicles with a high quality polyether based sealant and use that only on roof flashing collars and the adhere tiles in place. The result is you get a better job and a longer lasting repair.

We service and have recently completed roof leak detection jobs in these cities: Trabuco Canyon, Mission Viejo, Rancho Santa Margarita, Portola Hills, Dove Canyon, and Coto De Caza.